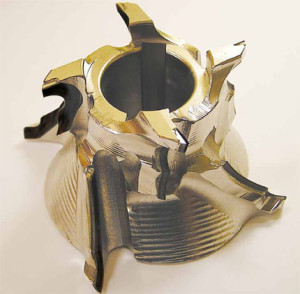 The body of a cutter is made of special tool steel. The material of the blade is micro-polished polycrystalline diamond. The special design of the body, the shape of the blades, and the angle of inclination guarantee high quality of milling. The technical parameters of the milling cutter are defined individually in the customer's order.

Material of the blade: polished diamond.
Milled material: particle boards, MDF, HDF, hard wood.
Height of the diamond: 4 mm – 6 mm
Expected number of sharpening operations: up to 12
Intended for highly efficient milling. The technical specification and the outline of the profile are determined individually according to the customer's needs.